About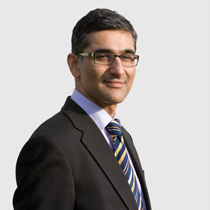 Junaid Hanif is a Consultant ENT Surgeon working at the Norfolk and Norwich University Hospital (Norwich). He is also an Honorary Senior Lecturer at UEA Medical School.
His private practice is based at Spire Norwich Hospital.
Profile
Specialty
Ear, Nose and Throat (ENT)
Sub-specialty
Rhinology (diseases of the nose and sinuses), Otology (diseases of the ear) and treatment of snoring and sleep related breathing disorders.
Special clinical interests
Surgery for middle ear disease (e.g. mastoid surgery, perforated ear drums)
Surgery to improve hearing (ossiculoplasty and stapedectomy)
Vertigo
Endoscopy sinus surgery
Surgery for snoring
Procedures for vertigo
Bone Anchored Hearing Aid implantation
Research interests
1 year of full-time research at the famous Common Cold Centre at Cardiff University. The research looked at aspects of nasal airflow and I was awarded a Master of Philosophy in Rhinology for my dissertation - Middle ear disease, chronic sinusitis and facial pain, complications of ear piercing, development of a computer modelled 'virtual ear' for training.
One year full time research at Common Cold Centre, Cardiff University. Master of Philosphy in Rhinology awarded for this research
Several publications in peer reviewed scientific journals
Development of 3D computer modelled 'virtual ear' for training junior doctors
Improvement in quality of life after Bone Anchored Hearing Aid Implant
Membership of Academic Societies
British Medical Association
British Association of Otolaryngologists and Head & Neck Surgeons
British Rhinology Society
British Society of Otologists
British Sleep Society
Professional Positions
Consultant ENT Surgeon at Norfolk & Norwich University Hospital and James Padget University Hospital.
Subspecialist in Otology and Rhinology and Surgery for snoring (I run a Sleep Disordered Breathing Specialist Clinic at James Paget University Hospital)
Lead for Bone Anchored Hearing Aid implant service at NNUH
1 year Otology Fellowship in Australia where I performed over 60 major ear procedures
Educational supervisor to the junior doctors (FY 1/2 and ST grades as well as the senior trainees)
Ear Care Course. A two day course run by Mr Hanif to teach other doctors on treatment of ear diseases
Lead for undergraduate teaching and curriculum for the ENT teaching to medical students (lectures and tutorials at UEA Medical School and NNUH)
Examiner for medical students at UEA Medical School
Registered with the General Medical Council
Qualifications
MB ChB: Dundee Medical School
FRCS (Otolarynology): Royal College of Surgeons Edinburgh
FRCS (ORL-H&N): Intercollegiate Examining Board
Master of Philosophy (MPhil. in Rhinology): Common Cold Centre Cardiff University
Other Achievements
One year Fellowship in Otology (ear disease) in Australia performing numerous complex and major ear operations
Live interview on BBC News following a research publication on ear piercing (also reported in the Observer Newspaper)
Charity 'Ear Camp': Performing major ear surgery on the poor in a third world country
Organising and teaching at the annual Ear Care Course at Norfolk & Norwich University Hospital to teach General Practitioners, junior doctors and practice nurses interested in ENT
Presentations and talks at regional, national and international conferences and meetings
Regular attendances at national and international courses and conferences every year
Personal Profile
Mr Hanif is married with a young family. He and his wife share a passion for travel and have travelled extensively around the world. They are also passionate about reading literature. In the past he has held a full private pilot's licence and intends to start flying again soon. To keep healthy he plays squash and swims regularly.